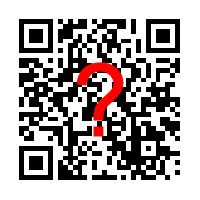 Many marketing people have been promoting the value of QR codes for quite a while. After all, the promise seems obvious – post a targeted code somewhere, make it easy for someone to reach the website, and track the results of different campaigns.
Studies such as this February 2011 survey from Baltimore based agency MGH seem to confirm the positives. 415 smartphone users from a panel were surveyed. 65% had seen a QR code, with a fairly even split between male and female. Of those who'd seen a code, 49% had used one, and 70% say they would be interested in using a QR code (including for the first time). Reasons for the interest include:
87% to get a coupon, discount, or a deal
64% to enter a sweepstake
63% to get additional information
60% to make a purchase
31% say they'd be "Very Likely" to remember an ad with a QR code, and a further 41% say they'd be "Somewhat Likely" to remember.
The published survey results don't cover whether people actually made purchases, or did anything else once they'd visited the site (32%). But let's look at what gets in the way of using the QR code in the first place.
The February 2012 of Quirk's Magazine has a brief article, titled "QR Codes lost on even the savviest", referencing work done by Archival (a youth marketing agency). The thrust is that if QR codes are to succeed, they should be adopted by college students who are smartphone users. However, although 80% had seen a QR code, and 81% owned a smartphone, only 21% successfully scanned the QR code used as part of the survey, and 75% say they are "Not Likely" to scan a QR code in future. A few more details from the study and a discussion are at http://www.archrival.com/ideas/13/qr-codes-go-to-college. I suspect the Archrival results reflect market reality more than MGH, but in any case QR codes are not living up to expectations. When was the last time you saw someone use a QR code?
Some may place the blame with marketers who don't do as good as job as they should of communicating the benefits, and indeed having something worthwhile in the landing page. But technology is probably the most important factor. Reasons noted by the students include:
Needing to install an app. Why isn't something pre-installed with more phones?
Expecting just to be able to take a picture to activate the QR code. Why shouldn't this work?
Takes too long. Of course, they are right.
To these reasons, I'd add that there is currently some additional confusion caused by the introduction of new types of codes. Does the world need Microsoft Tag and yet another app?
Maybe QR codes will suffer the same fate as some previous technology driven attempts to do something similar. Does anyone remember Digimarc's MediaBridge from 2000? Did it ever seem like a good idea to scan or photograph an advertisement in a printed page to access a website? What about the RadioShack CueCat? Perhaps Digimarc has a better shot with their new Discover™ service that includes a smartphone app as well as embedded links in content. If you are already a Digimarc customer, or don't want to sully the beauty of your images with codes – maybe it's the answer. But that seems like a limited market compared with the potential that's available for QR codes done right.
Come on technologists and marketers – reduce the friction in the system!
Idiosyncratically,
Mike Pritchard